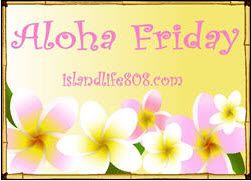 Aloha Friday at Island Life
In Hawaii, Aloha Friday is the day that we take it easy and look forward to the weekend. So I thought that on Fridays I would take it easy on posting, too. Therefore, I'll ask a simple question for you to answer. Nothing that requires a lengthy response.
The weather here has been crazy the last few years, in 2007-2008 there was over 120" of snow in total for the winter, in 2008-2009 we had just over 160" and 37.5" of that fell within 37hours(everything shut down it was a MESS!). This year they are saying its going to be super rainy...I dont think I believe it, I know El Nino is here this year but something tells me we are in for another snow dump. We've already had snow luckily it didn't stick, but its been anywhere from 30-50 for the high and 17-40's for the lows.
How has your weather been lately?