Been Months since I've posted one of these!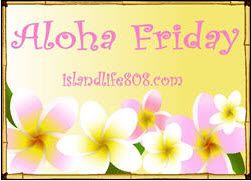 In Hawaii, Aloha Friday is the day that we take it easy and look forward to the weekend. So I thought that on Fridays I would take it easy on posting, too. Therefore, I'll ask a simple question for you to answer. Nothing that requires a lengthy response.
What do you do on YOUR birthday? Go out with friends and family, stay home like any other day, or do something fun with the kids?

I will be; first taking the kids to the doctor at 10am, Seamus has a med check and Kieran a weight check, then paying bills, then having some friends and family over for a Chicken BBQ and a Cake Seamus and I will bake in the afternoon. At around 8:30-9pm we are going out and my brother is watching the kids(Though they will be asleep, or should be in Kieran's case).
Head over to An
Island Life
for more Aloha Friday!!
This is for the 19th of March, blog says 18th cause I'm in pacific time and its only 11:15pm here lol so not quite the 19th yet but close